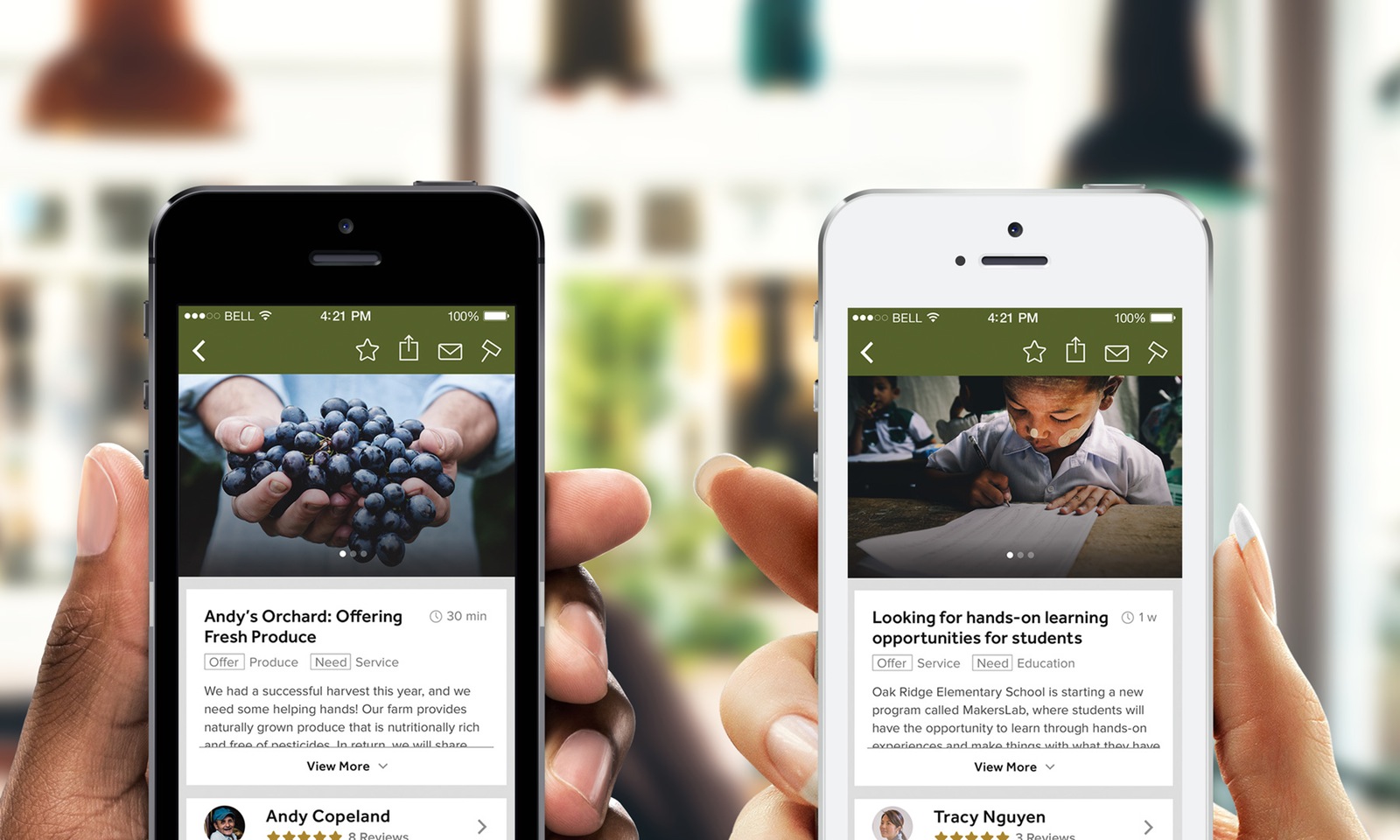 Platter is an online marketplace that connects people together through the celebration of exchange. Platter contributes to sustainable development by reducing waste and preventing accumulation of unused resources.
Problem
More than 70% of the rural population in Canada are in agriculture, with most having excess product that must sold at smaller profit margin, or discarded completely. The most effective solution would be to exchange excess product for something of equal value that they need. However this method would be very time-consuming and ineffective as one needs to filter through various databases. Platter was designed to respond to this problem.
Solution
We decided to concept a marketplace that connects people together through the celebration of exchange, with goods and services being the currency. Platter contributes to sustainable development; by reducing waste and the accumulation of resources that would otherwise be unused.
Potential exchanges on Platter could include a farmer offering his excess produce from a successful harvest in exchange for help on his harm, supplying educational materials in exchange of tutoring lessons, or a photographer looking for models in exchange for shots.
Offer and Needs
Unlike most eCommerce experiences where goods are exchanged for money, users will be completing mutual exchanges for goods and services. Example scenarios could include an offer for produce, a need for a service, or even a specific desire for goods in exchange with what they have. Each listing card is labelled to clearly indicate if it is an offer or a need, or both.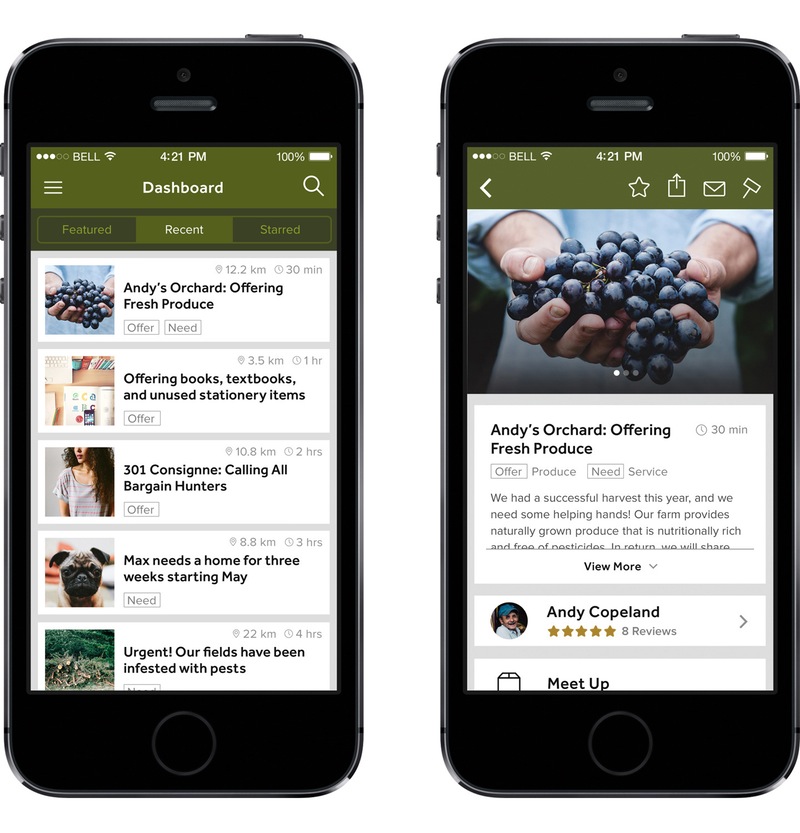 Making the Exchange
Conversation is important in every exchange, to discuss and negotiate the details before making the agreement. When the offeror is certain, they can send a formal offer that outlines the details of the exchange. Once the recipient of the offer accepts the request, the two can make the exchange offline.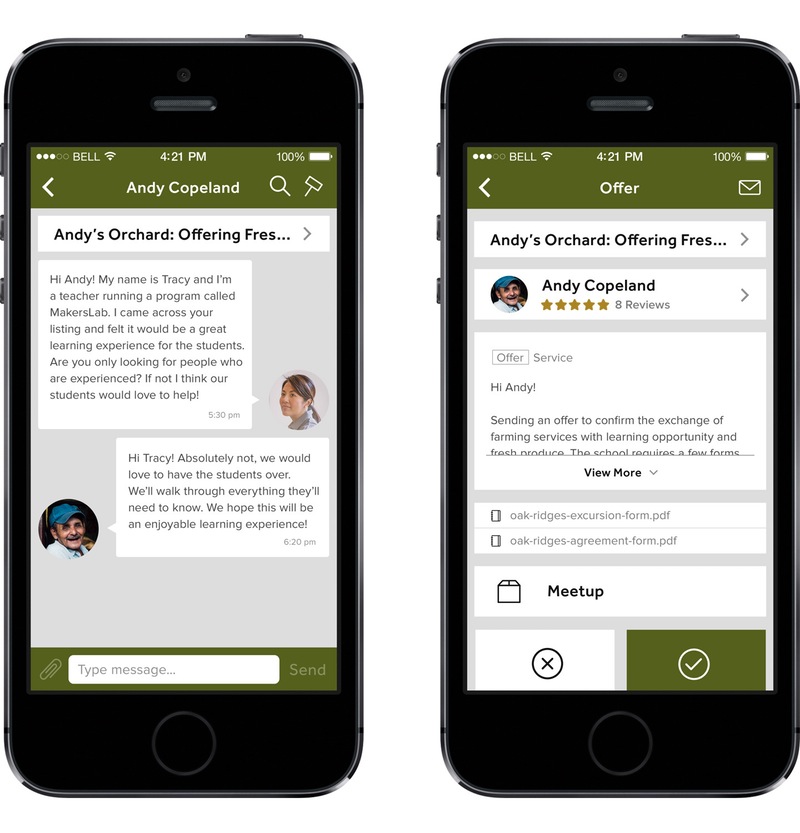 Rating the Experience
Platter exchanges unique goods and services that are not of the same quality or value every time. For example, a user might offer to knit a hat, but not every knitted hat would be of the same quality because it is handmade. For this reason, users are asked to review their experience with the offeror rather than the exchanged good or service.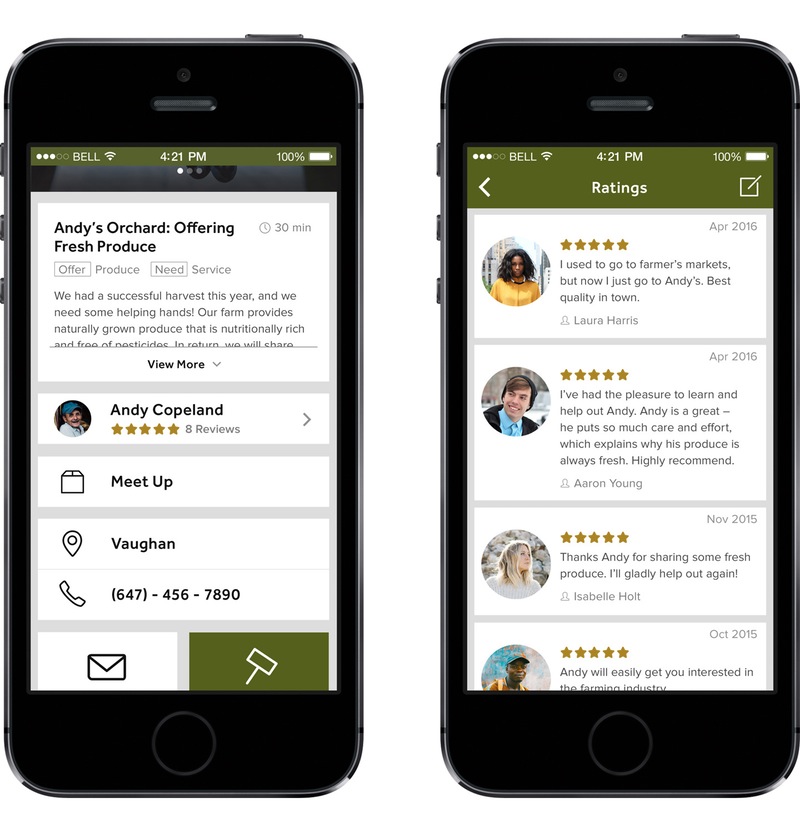 This project was designed with Kevin Ng and Tina Chan.